What is a floor lamp sconce?
It is the perfect lighting solution, if you are like me and love the look of sconces, but live in a rental that does not have any sconces.
Or any lights in the living room, for that matter.

I enjoy living in my little loverly cottage.
Honestly, at this stage of my life [now that I am an empty nester] renting is so much easier.
Even the lawn mowing is covered by my lease, which leaves me more time for projects and for working on my butterfly garden.)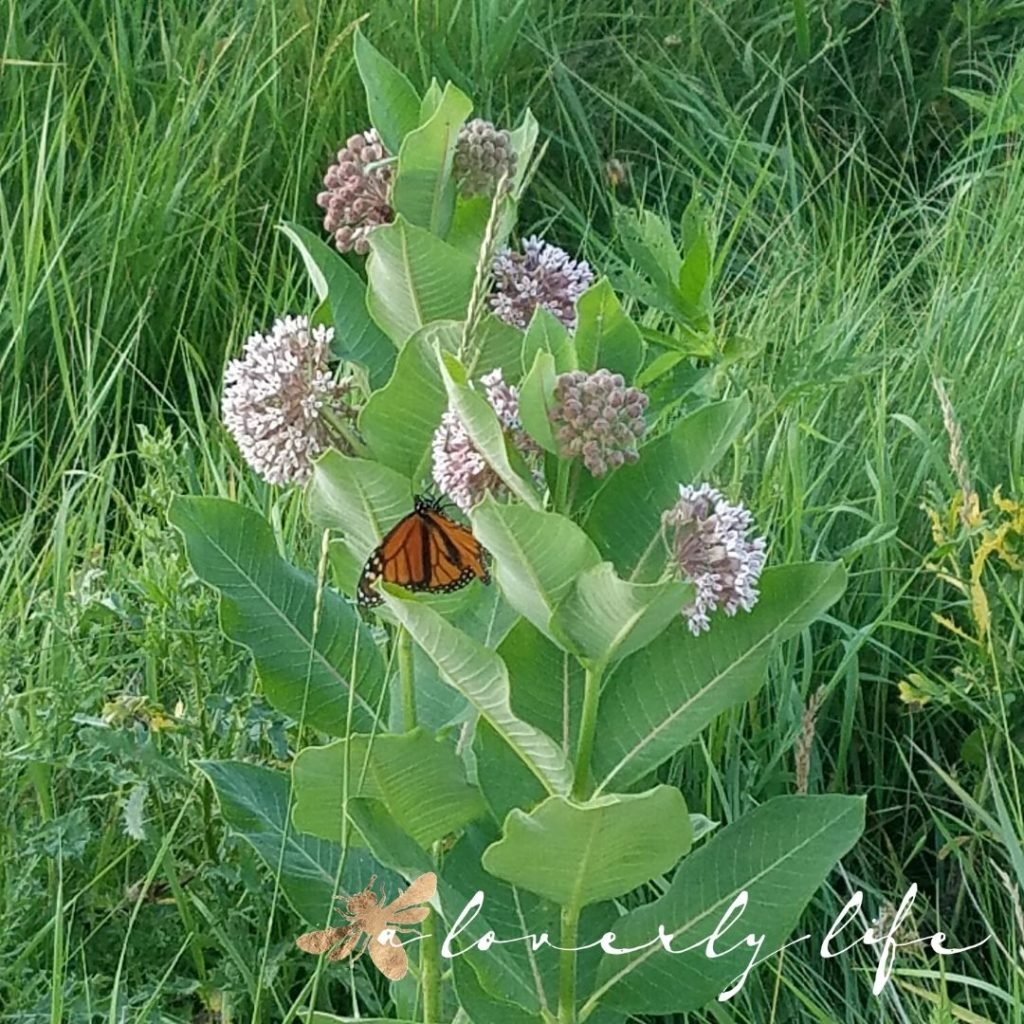 Not to mention, I don't have to worry about any major repairs, should anything pop up!
Being near the lake is my other little bit of heaven.
I just love being able to walk to the beach whenever I want.
Warm days mean toes in the sand while scavenging for beach glass and fairy stones.
The past 4 years, I found creative ways to add my favorite touches of French country cottage style to my home.
Sometimes, rental homes can have some decorating challenges.
One of the challenges in this house is that my living room does not have any light fixtures.
Fireplace, yes.
As for living room lights, not a one.
Sure, I could use table lamps.
But they take up so much room on the end tables.
And floor lamps, but I just don't like floor lamps in here.
I love the look of sconces, but to hard wire them would be an awful lot of work.
Not to mention that I am pretty sure my landlord would not appreciate my adding permanent fixtures.
Have you ever found yourself in a predicament like this?
Well, I had a BRILLIANT idea.
And there will be sconces.
You won't believe how easy this is!
Here's what you need to hang sconces in your rental without drilling a hole in the wall:
Pair of sconces (unless you just need one)
Pair of solid wood closet doors
Paddle bit
Drill
Electrical tape
Electrical wire caps
Lamp Wire w/switch
optional:
Sandpaper
Finish for your doors (paint, stain and/or wax)
First you need a pair of sconces.
Of course, you don't HAVE to make 2 of these, a single works just fine if that is all you need.
Check out this version I made with an antique door [perfectly distressed and accented with a bit of French country cottage glam]

For this project I wanted to use this beautiful pair of antique sconces that I found at one of my favorite resale shops.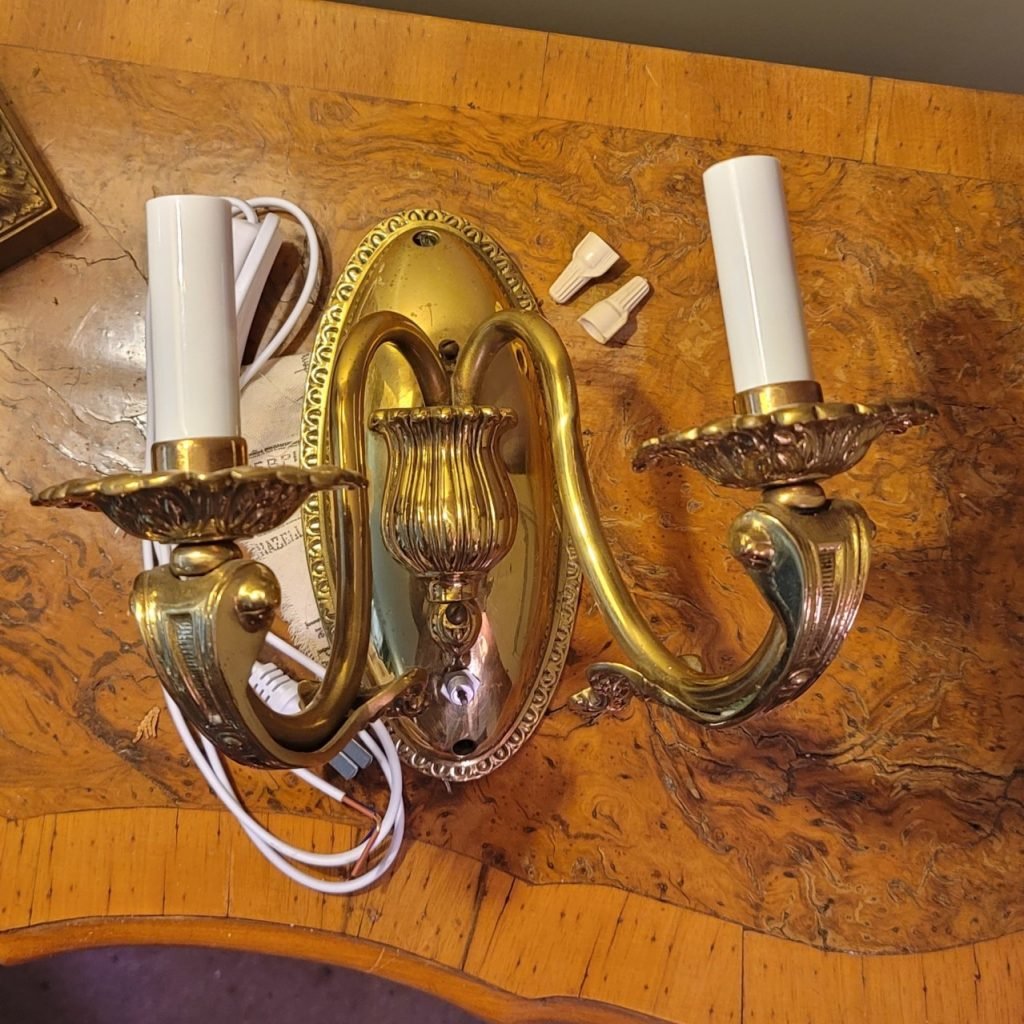 They make me swoon.
There were a few crystals missing, but I keep a stash of crystals just for situations like this.
I mean, just look at the beautiful curves and the detailed bobeches, I so love my thrifty find.
If I recall, it was only $15 or $20 for the pair!
These sconces were meant to be hard wired, but did you know that light fixtures can easily be converted so that you can plug them in?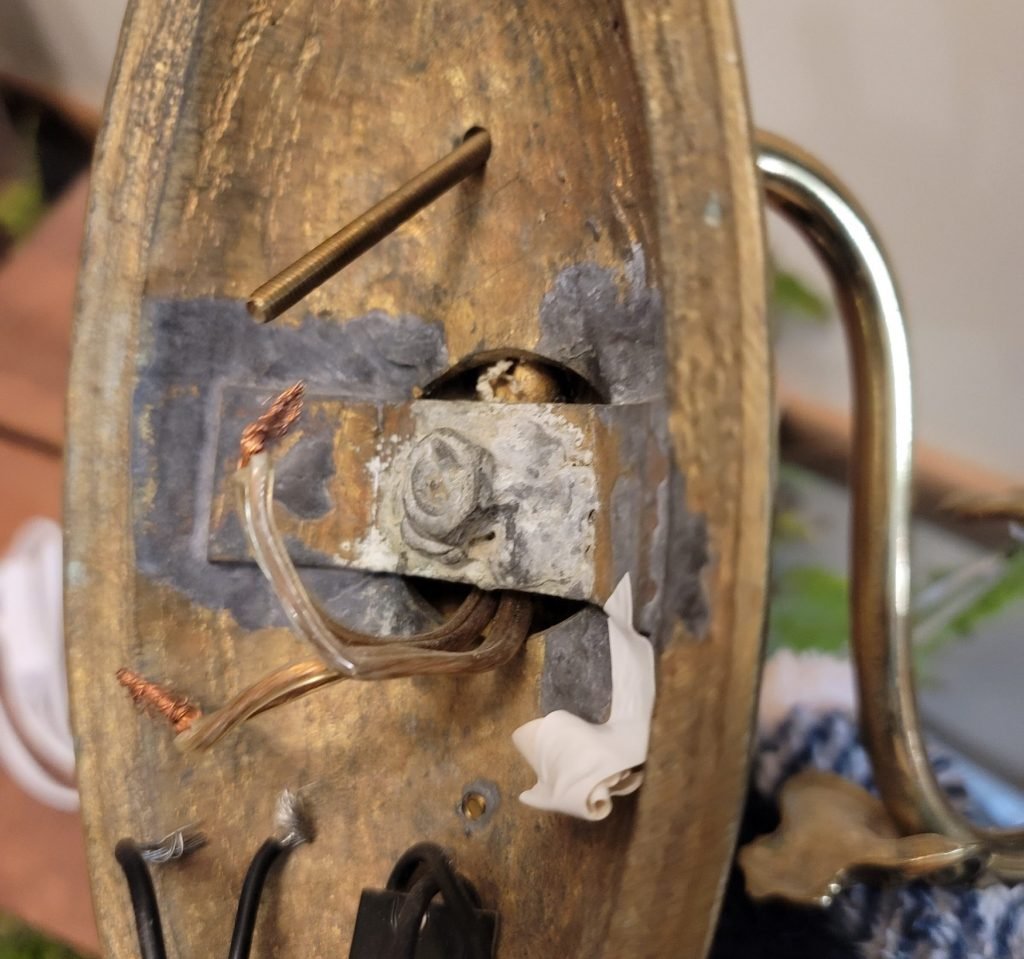 All you need is one of these.
It's a lamp wire.
I prefer the ones with a switch, but they are available without.
If you are going to be tinkering with anything electrical, electrical tape and caps will always come in handy.

Electrical tape is available in several colors, and white was perfect for this project.
Now that you have the pieces for the light fixture, you are going to need a way to hang them.
This is the brilliant part!
I have a collection of wood paneled doors.
All different sizes, some louvered and doors with recessed panels.
I love to use them for backdrops at market, so I always have a bunch tucked away SOMEWHERE.
See that blue paneled door on the left? That's the type of door we want for this project.
Make sure the door is solid wood, not the flimsy builder grade or hollow door kind.
It needs to be sturdy to properly secure the sconce to it.
If you don't have a pair of doors like this, you can often find them at garage sales, barn sales and thrift shops. Keep your eyes open, an you will find the perfect pair.
I had a pair that were painted soft white, with a bit of natural distressing from being schlepped around for years in the back of a trailer for my market displays.

They will be perfect for this project.
The last couple things needed for the project are a drill and a paddle bit.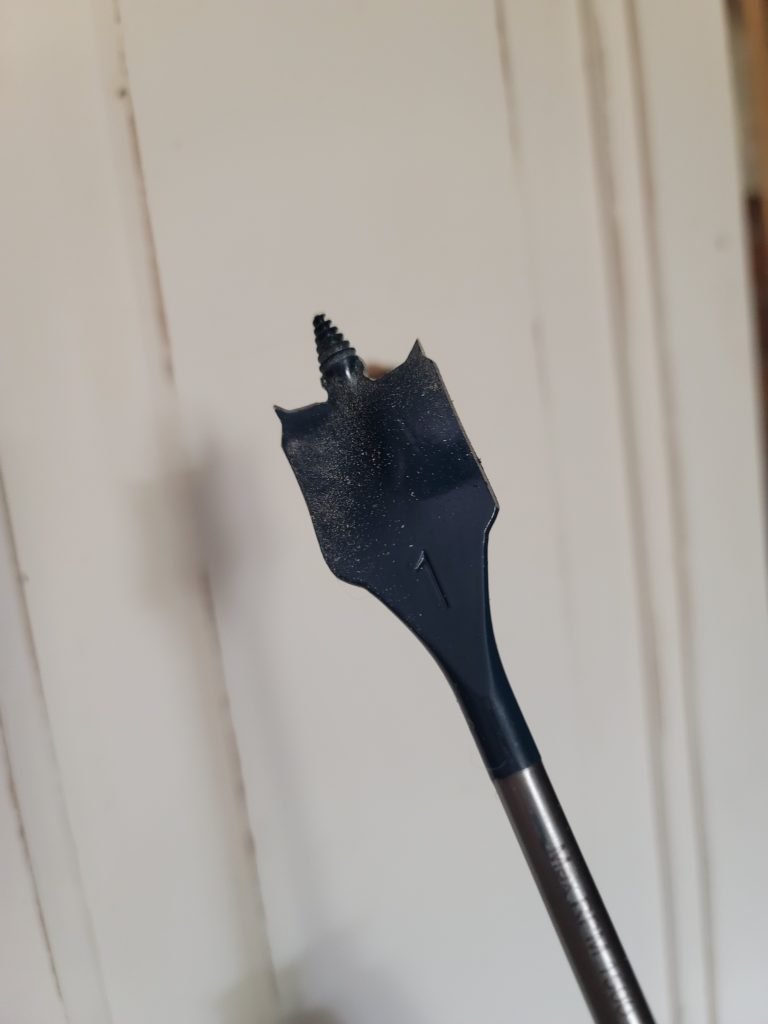 A paddle bit is a drill bit shaped like a paddle (imagine that!) that allows you to cut a circle in a piece of wood, much larger than a regular drill bit

Choose the size of your bit to be just a bit larger than the plug on your lamp wire. [see what I did there?]
The plug of the lamp wire will be pushed thru the opening once the sconces are wired.
You can order the paddle bits on Amazon, and they arrive lickety split by the amazing Amazon drivers.

The paddle bits come in a variety sizes.
To make things a bit easier for you, I did the search for you:
You can also use a hole saw bit – these are fabulous for drilling larger holes:
Once you have everything gathered, you are ready to create your portable wall sconces.
First thing you want to do is find the proper placement.
I wanted the location of the sconce to be closer to the top section of the middle panel.
I marked the holes where the screws will be drilled with a pencil.
Then I marked the center point.
That is where you place the center of the paddle bit and drill your hole in the panel.
Once your hole is drilled, make sure to sand the rough spots with a bit of sandpaper.
You don't need to go crazy with the sanding.
Sand just enough of the rough edges so that it is smooth, you don't want to get any splinters when you feed the plug through.
Once the hole is drilled, it is time to wire the light.
Please make sure to follow the directions that come with your lamp kit.
It's super easy, you simply twist the color coded wire to the appropriate wire on the sconce and twist on the wire cap.

I like to follow up by wrapping a bit of electrical tape around the cap and wire for an extra secure hold.

Then pass the plug thru the beautifully cut hole in the wood panel and attach your sconce.
This sconce only requires 2 screws to hold the sconce securely on the wood door.
Now for the finishing touches.
I start with my favorite
I have started to swap out all my light bulbs for LED.

If you have ever used LED bulbs, they are so loverly.
They don't use a lot of energy, so it saves on your electric bill.

Make sure to pick the right LED bulb, prefer the daylight bulbs.
The light seems so natural and they aren't the harsh blue lights anymore.

I picked out some of my favorites:




I always appreciate it when you click on my affiliate links to shop.

Why do I post affiliate links?
It's a win|win situation. I do the research and recommend products that I use and love and when you click on affiliate links, I receive a small commission that helps support my blog.

The best part is that it doesn't cost you a thing!

The more you click on the affiliate links to help support aloverlylife.com, the more free DIY's projects I can share with you <3 and that is absolutely loverly.

I appreciate your support, SO MUCH.

Back to the sconces, I put them in place before I added the crystals because I didn't want any falling off and rolling under the couch, because you KNOW that would happen.

I couldn't wait to see how they looked, BC [before crystals] so I took a quick pic.
I made a pair to flank the BACC (the big a.. comfy couch) and simply tucked them behind my end tables.
Until I rearrange things again, they just may end up behind the BACC.
Just look how pretty they are now that they are dripping with crystals!
Did you notice that paint color of the door is close to the wall paint color.
This helps the floor lamp sconces blend in nicely, and the paneled wood door adds a bit of texture, too.

I am so happy with the way they turned out, just gorgeous!
Since the doors rest on the floor, though you can hang them on the wall, and the sconces are attached to the doors I think that makes them a loverly hybrid floor lamp sconce.

Let there be light!
Don't they add the perfect French country cottage touch to the living room?
I think these would be really pretty flanking a bed, too.
BTW – Did you spot Lulu's freshly washed bed in the picture?

You can find the super easy DIY over here
She is waiting for the perfect opportunity to curl up for a cat nap.

Don't forget to pin this project so that you can save it for later.