Today I am sharing how I created DIY Tabletop Fire Pit from a concrete planter I found on the side of the road.

You've heard the saying "One mans trash is another mans treasure".
In this case it happens to be a woman's treasure.
I found this concrete urn on the side of the road over 5 years ago, discarded on trash day.
The concrete planter has a gorgeous pedestal with a beautiful shape and stunning garland trim on the bowl.

Honestly, I had a hard time using it for plants.
The bowl is wide and shallow.

So I needed to find another use for it.
Well, I had a great idea.
I think it will make the perfect table top fire pit.

The base had some cracks
and the bowl had this weird dried goo on it
I wanted to give the concrete urn a bit of character and transform so that it has some of that French cottage charm that I love.
Charm was simply added by painting a bit of grey, making sure to get it in the cracked base.
Then I added a bit of soft green.
*Affiliate disclosure
This post may contain affiliate links. When you click on links for recommended products and make a purchase, I may receive a small commission. There is no added cost to you.

I truly appreciate it when you click on the affiliate links, because it helps support my blog, A Loverly Life.
It enables me to create free content for you.
So from the bottom of my heart, thank you for shopping with my affiliate links!
Shop Favorite Fall Finds

Back to the project!
I did not completely cover the concrete, because I wanted a some of the original concrete to peek out.
Once the grey and soft green dried, I used a combination of stippling and dry brushing over the entire concrete urn with white paint.
Check out the quick video showing how I achieved the effect.
Since there is very little paint used, it dries pretty quickly.
I did add felt pads to the bottom of the concrete urn, so that the concrete wouldn't scratch my glass tabletop.
The last thing to do is to add fire glass.
I found this beautiful aqua colored fire glass that reminded of my favorite color beach glass.
Look carefully in the background and you may notice that my roses make a few brief appearances in the tutorial.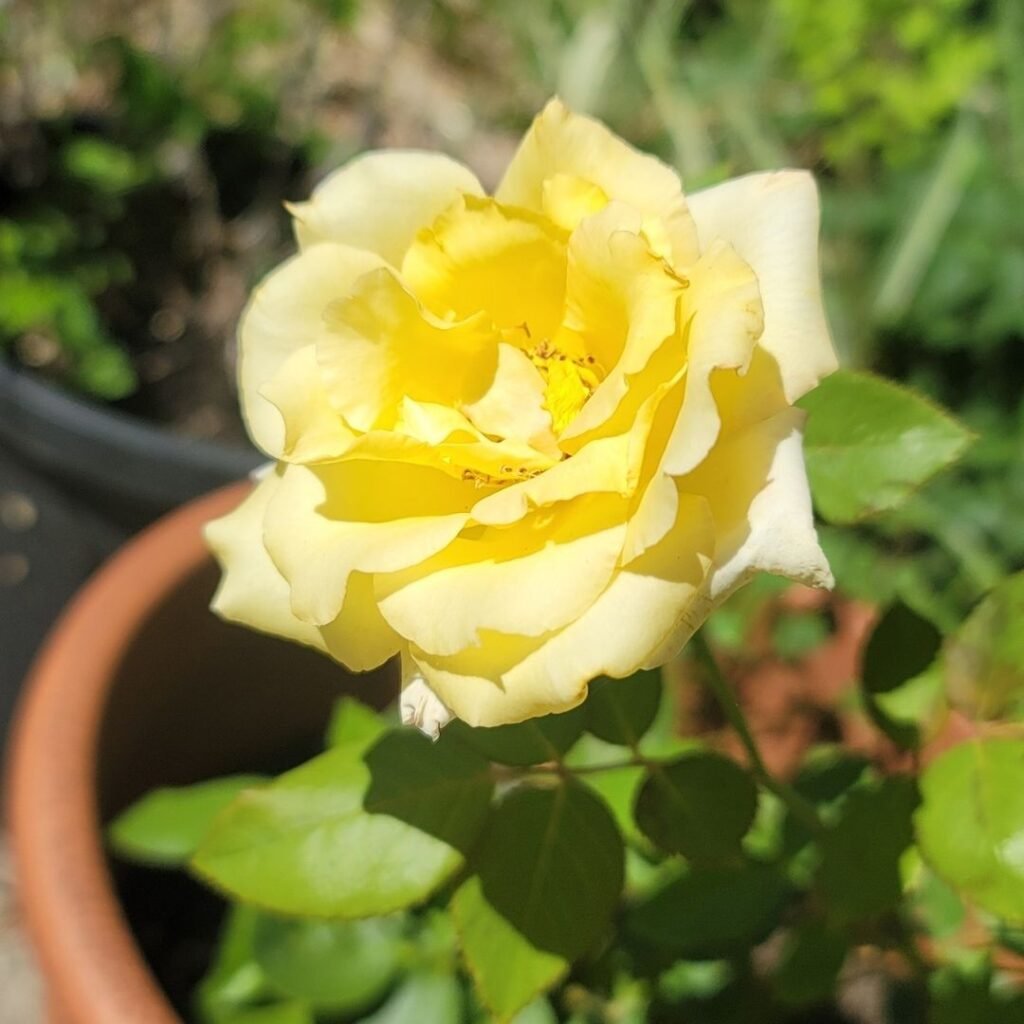 Propagated Roses from cuttings
If you love roses, like I do, you need to check out how I propagated these roses from grocery store!

Yes, from long stemmed cut roses. This tip works on rose bushes and hydrangeas, too.
Pop over to the post when you are done making your firepit.

If you want to make your own tabletop fire pit, make sure to use a fireproof container.
You can use fire glass [which is rated for heat] or different types of stone like these:
The last thing you need is gel fuel – Sterno is very reliable and clean burning.
You can even use it to roast marshmallows!

Here's how I added the fire glass, notice that I used silicone gloves to protect my hands.
The glass could have sharp edges, and I wanted to make sure I did not cut myself.

It is important to follow the safety tips from the manufacturer.
The fuel burns CLEAN, if you notice in the video above, you can't see the flame when I lit the gel fuel in bright daylight – PLEASE BE SAFE!
I just love how the urn turned out.
All the layers of paint peeking thru making it look like an antique.
Time will cause the paint to chip a bit, too.
Oh, the color of the fire class, it reminds me of my walks by the lake looking for beach glass.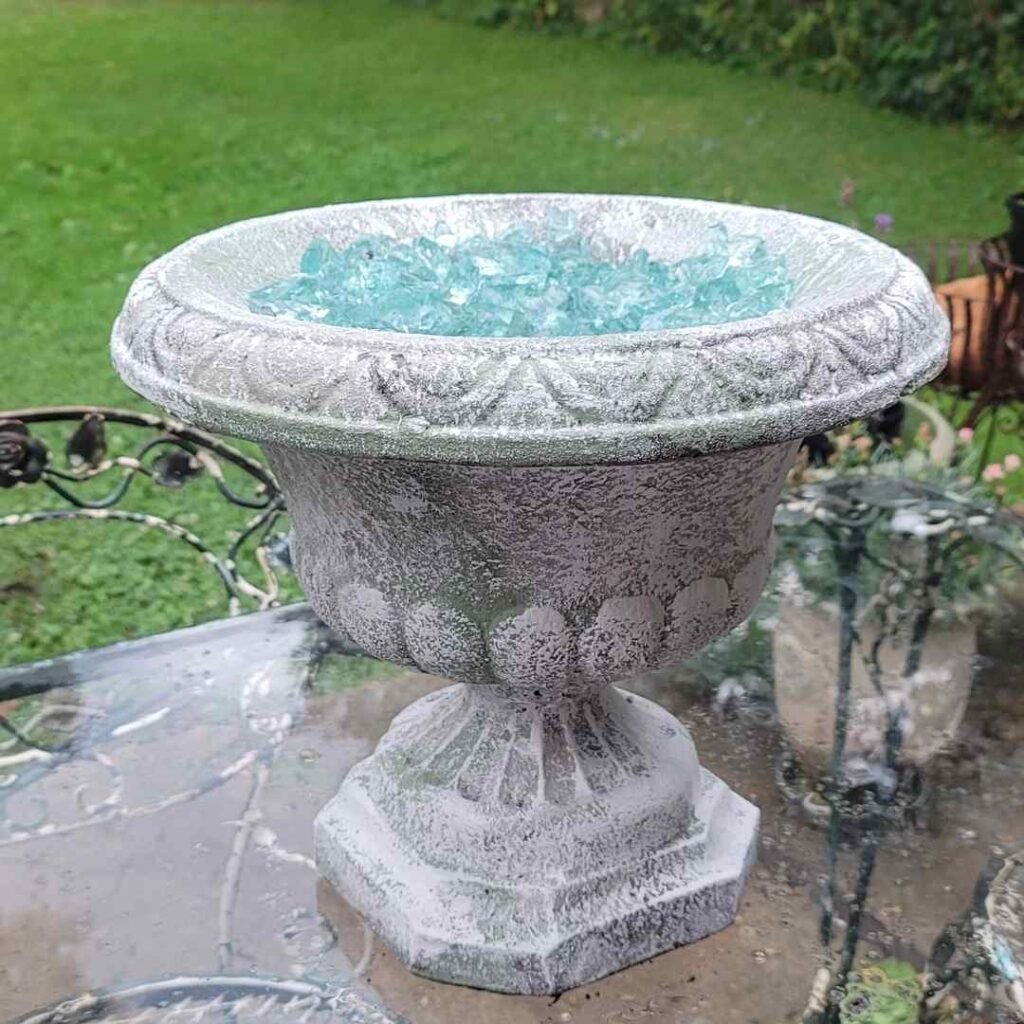 Here is how beautiful my DIY tabletop fire pit looks at night in my wee cottage garden.
It's perfect for outdoor entertaining.
Now, where are my marshmallows?
While we are talking about outdoor entertaining, I have teamed up with 6 bloggers friends where we have linked up to share our latest posts for Another Loverly Blog Hop.

Be sure to check out all the loverly projects and let me know what your favorite one is in the comments.
I'd love it if you save the PIN for later.
Marie from This Dear Casa is sharing how to create living wall Decor to add some character to your outdoor entertaining area.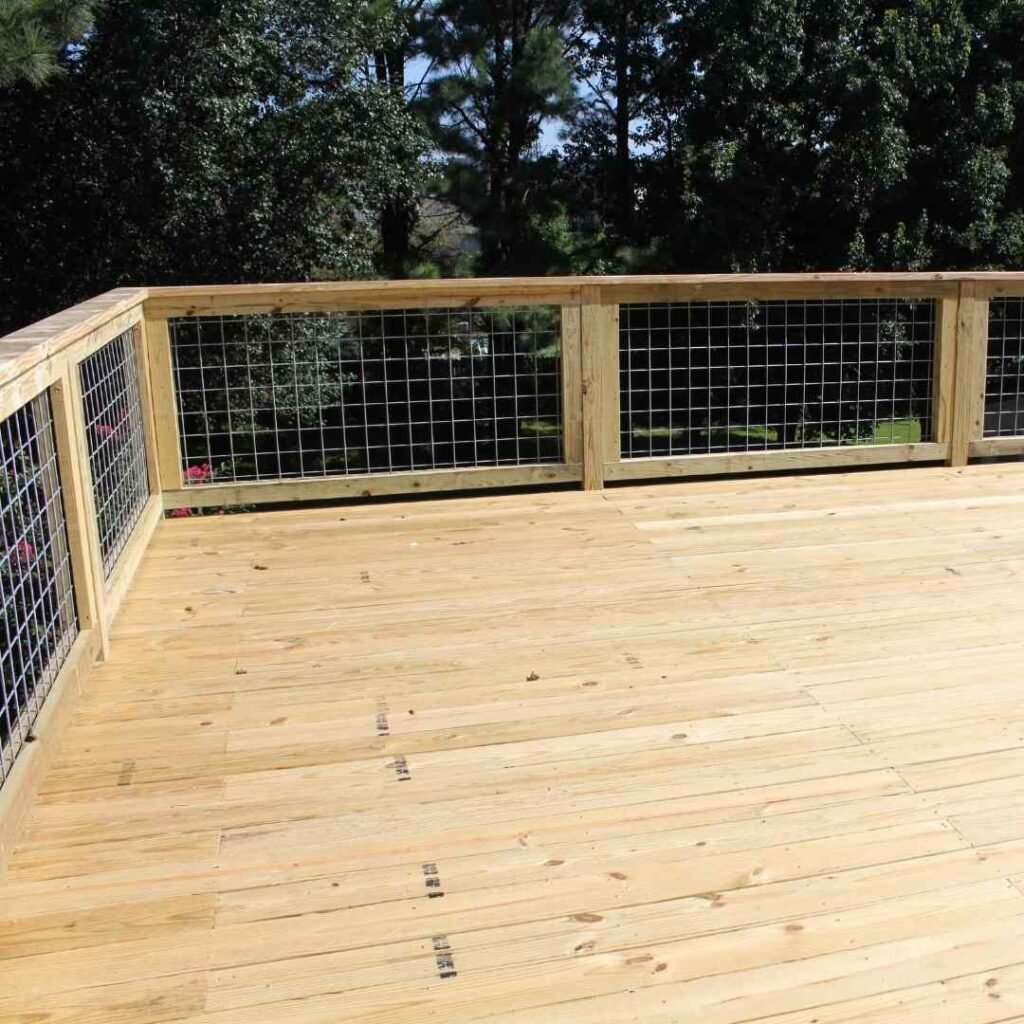 Stop by Shop at Blu where Sue shares how to decorate the perfect outdoor entertaining space on her beautiful new deck.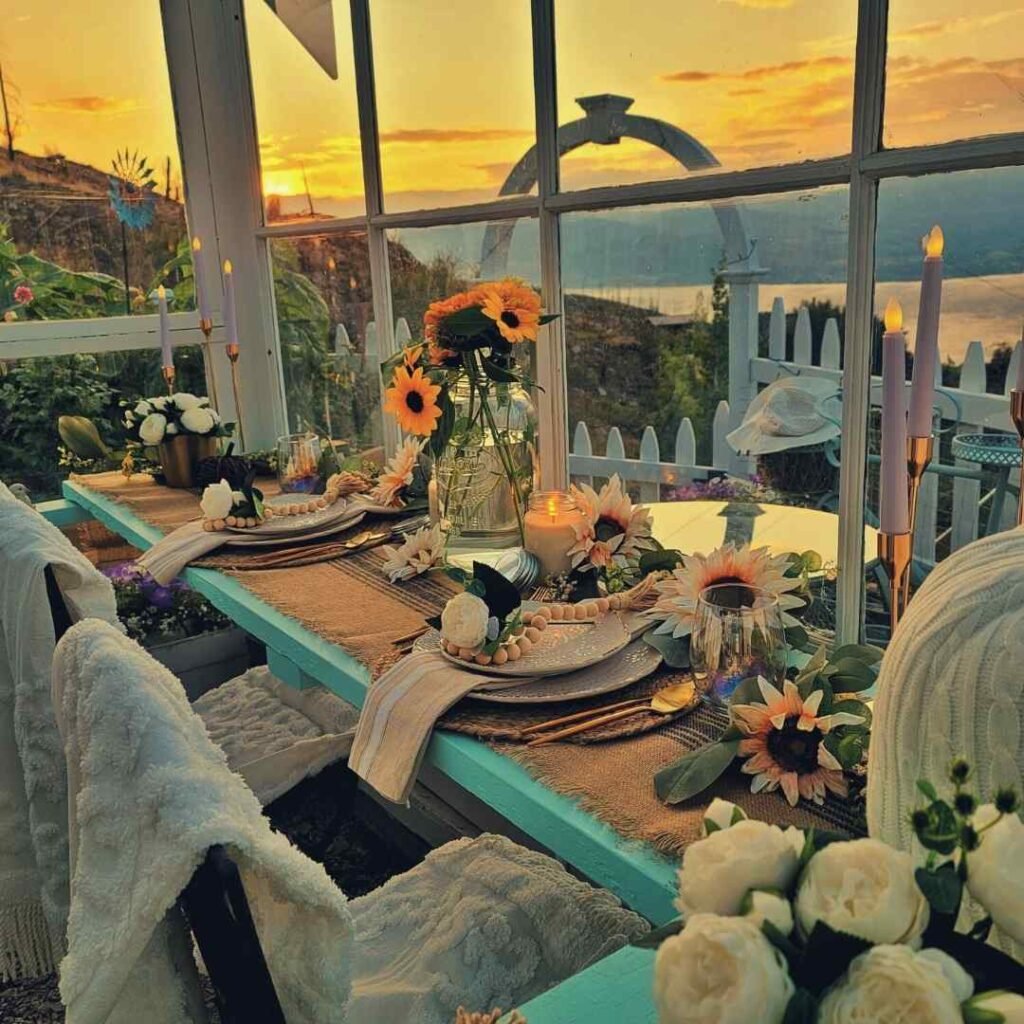 Crystal is sharing her tips on how to throw a fabulous outdoor dinner party over at Sweet Valley Acres.
Check out this easy and beautiful fall porch decor design from Stephanie at Gathered in the Kitchen.
Get this DIY on this charming S'mores inspired serving tray from Anne at Ikorn Crafts.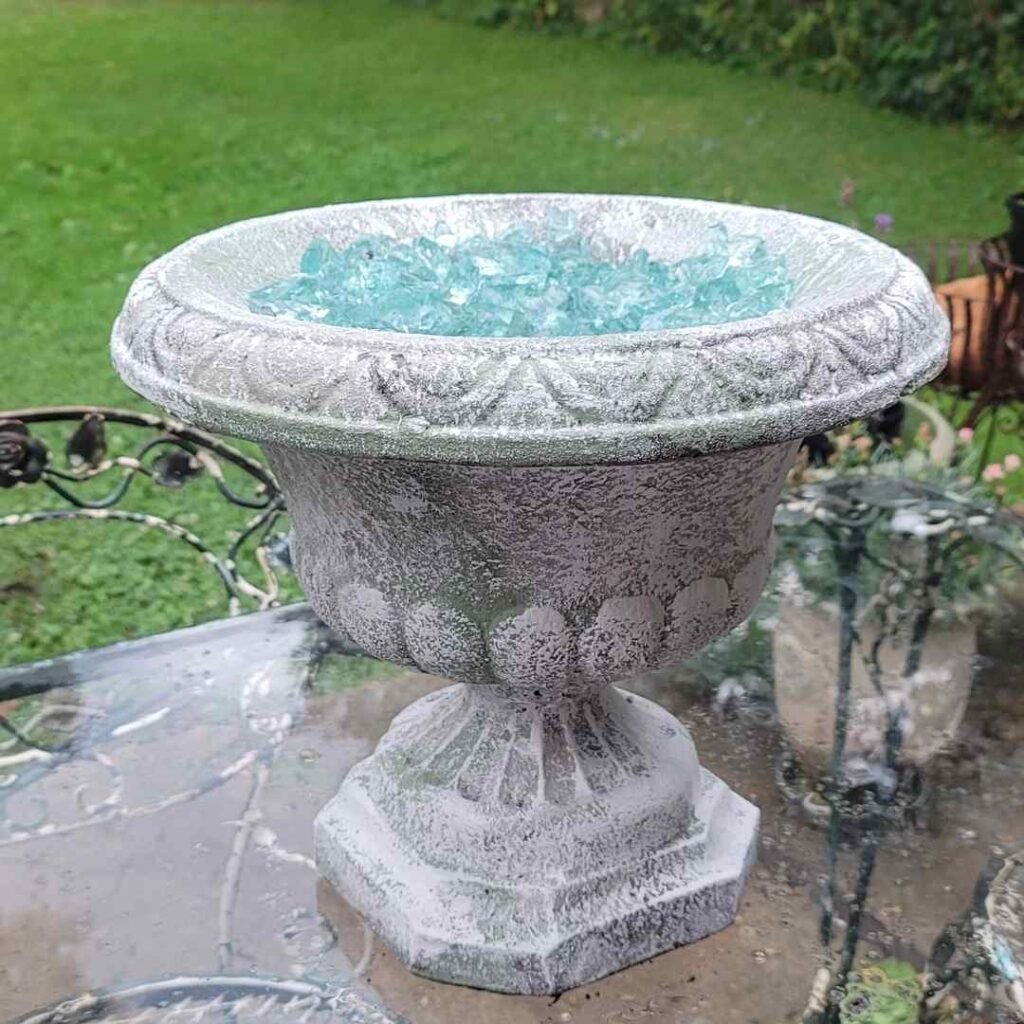 Perfect for roasting marshmallows or an ambient glow, see how Juliet from A Loverly Life transforms this concrete urn in to a tabletop fire pit.
If you have a post related to outdoor entertaining, feel free to add your link below.
Kindly follow the hostess @aloverlylife on Social Media
Adding your link give me permission to share your post and possibly photos on social media.