Easy DIY Muted Faux Fall Foliage
Who's getting ready for fall? ME! Not only am I sharing my quick and easy DIY for muted faux fall foliage, but I am sharing 11 more projects that my friends and fellow bloggers have put together for a Harvest Hop.

When it comes to fall decor, I love pumpkins and fall leaves.
Like these adorable sweater pumpkins.

But, I have a confession.
I am not a fan of orange.
OK, not ALL orange.

I am just don't like the bright loud Chicago Bears orange that we see during the fall color change.
Let's save that orange for the turning leaves on the trees.

I think a lot of people don't like to decorate for fall because they don't like that loud orange color.

But did you ever notice when you at real pumpkins, the natural tones are more muted.
Not like the screaming at you orange of Halloween [a holiday that holds a special place in my heart].
It's easy to incorporate bits of fall without the garish orange.

Like this fun fall bunting [the sweater pumpkins, too!].
I love faux fall foliage [say that 10 times fast!] but it seems that quite a bit of the faux fall foliage that you find at the store is that really bright orange [and yellow].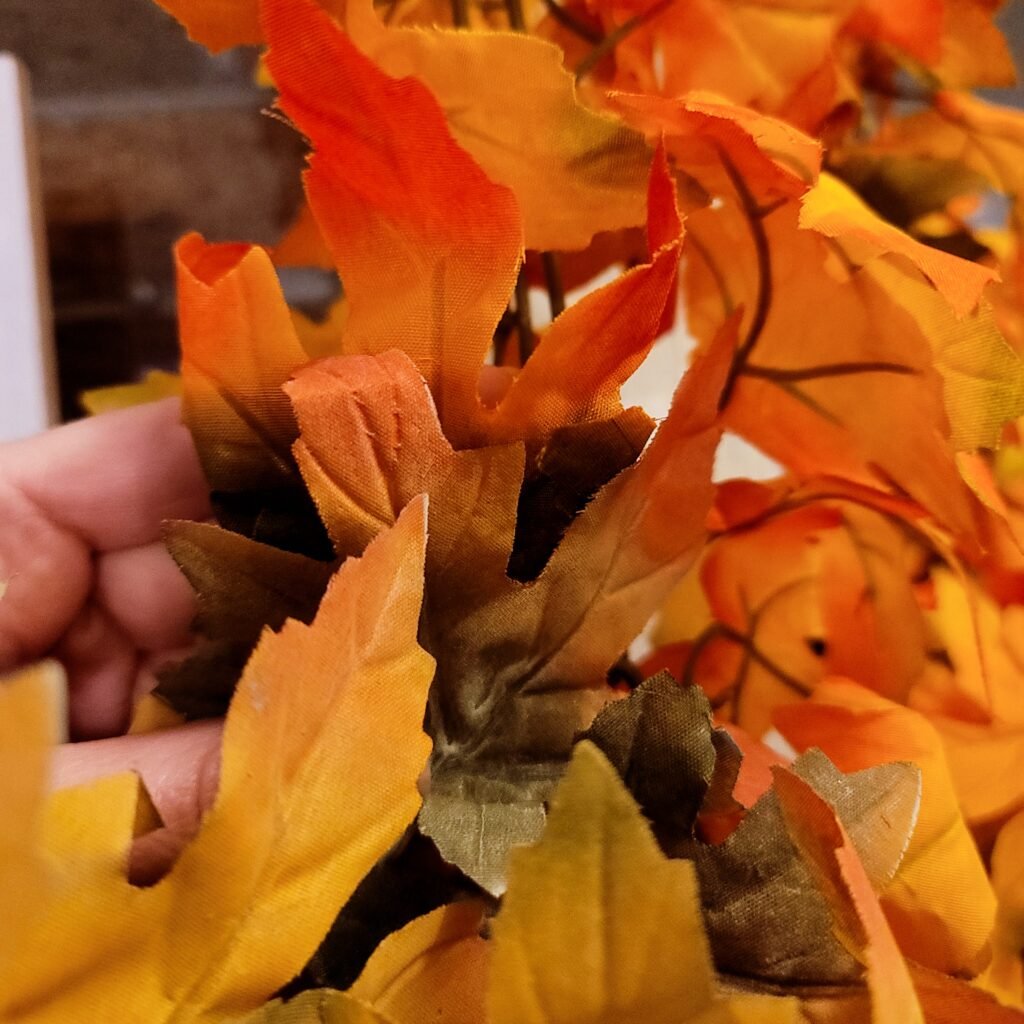 Those colors are a little loud for me, I like my colors a bit more muted and neutral.
Who's with me?
Subtly speaks volumes.
Let's take those colors down a bit and make them softer.
It's super easy.
All you need is:
a bit of left over paint
water
paint brush
gloves to protect your hands,
something to protect your work area like an old plastic table cloth
So I started by testing out colors. Each color has a different effect, so chose a color based on your color palate.
Or just use what ever paint you have left over from another project 🙂
The paint is mixed 50/50 with water to create a color wash.
I tested out 4 colors; white, ivory, grey and green.
You certainly can skip testing, but it helps to get an idea of how the color will look before you paint everything and realize that you don't like the color.
I took a couple different leaves and painted each a different color with the color wash and let them dry.
Remember that when you get something wet, it looks darker.
So you may think you have too much paint on them.
Once they are dry, you can see the subtle differences in the shade – then pick your favorite.
Can you see the SLIGHT difference between the green [left] and the grey [right]?
The color wash really softens the color compared to the bright original leaf.
It looks more like a more realistic dried leaf, too.
Now that I picked the perfect color wash for me – the green toned wash – I am going to show you a simple way to paint an entire 6 foot garland in 5 minutes!
Remember the tin lasagna pans from my resin pour blue & white ornaments?
You can see one in the photos above. They are great for small DIY projects because catch the drips!

I just love them.
Place your garland in one of those pans, you will thank me.
Then brush a little color wash on the leaves.
and rub it all over the leaves with your gloved hands.
don't forget to get the backside.
You don't want the front muted and the back to be bright.
Go to town and have fun rough painting on the leaves and rubbing it in.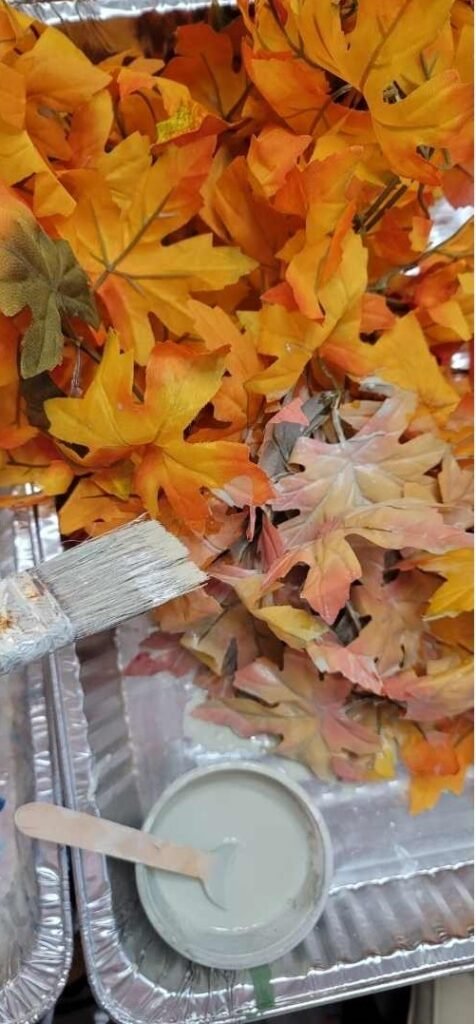 Let the tray catch your drips, because it is gonna be a bit messy.
If you don't get a little messy, you didn't do it right.

Don't believe me about the 5 minutes to cover the 6 foot garland with the color wash?
Well, if you want to watch the opposite of paint drying, I created a video showing the process.
Totally easy, right?
Once all the faux fall foliage is covered, you just need to find a place to hang the garland while it dries.
Oh, you may want to place the pan underneath to catch the drips.
It shouldn't take more than a couple hours to dry.
And VOILA – a beautiful muted garland to adorn your fall mantle, table or anywhere else you need some pretty faux fall foliage.
Toned down of course.
You can paint any type of faux flower or foliage with a color wash.

Doesn't the faux fall foliage garland look more realistic after the color wash is dried?
Can you see the difference between the 2 side by side?
Color wash on the left, original on the right
Subtle and muted, just the way I love it.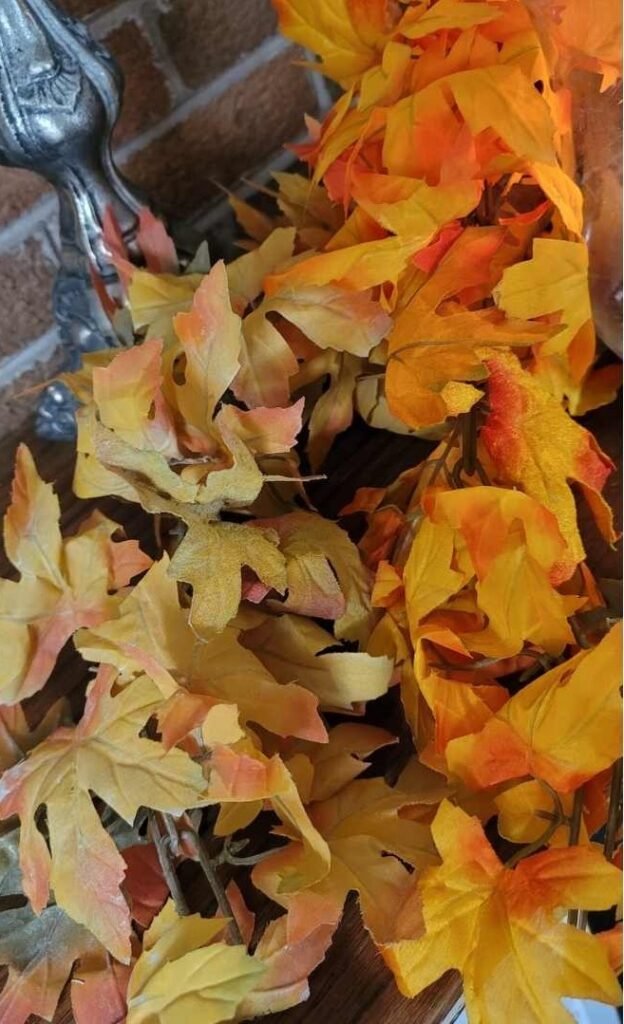 Here's the before and after
I just love how the faux fall foliage turned out.
It is such a simple DIY.
Any ideas where I am going to use it?
I have a special DIY just waiting for it.
I can't wait for you to see my next project.
If you liked this DIY, please forget to Pin it for later…
Or share it with friends.
That brings me to Another Loverly Blog Hop – Harvest Hop 2021

How about some more fall inspiration?
Check out their posts in the Harvest Hop and make sure to let me know which ones you LOVED in the comments.
Tell them Juliet from A Loverly Life sent you <3